Drumming Workshop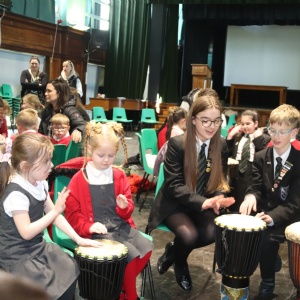 On Thursday 20th April, Netherthorpe School welcomed 45 Year 1 and Year 2 students from St Joseph's Catholic and Church of England Primary School to take part in an African drumming workshop. During the workshop, Netherthorpe's African drumming group performed two of their most exciting and challenging pieces, Pinks latest hit – 'Never gonna not dance again' and 'Pirates of the Caribbean.' Netherthorpe's African drumming group have been working hard over the past few months, learning complex rhythms and developing visually exciting drumming patterns in preparation for the workshop performance. Students put on a fantastic performance, and it was great to see all the Primary school student's little faces beaming with excitement as they watched!
Students then took part in a drumming workshop, where they learnt a variety of different rhythms and how to play as part of an ensemble. Students created their own rhythms based on syllables from their favourite animals names. Netherthorpe's African drumming group students also took on leadership roles within the groups and students were responsible for teaching the year 1 and 2 students different rhythms. It was fantastic seeing Netherthorpe students supporting, encouraging the primary school students and showing them different techniques on drums! Towards the end of the workshop, each group was asked to perform their creative rhythms and they did a fantastic job! Students really enjoyed the experience of playing on the Djembe drums and it was brilliant to see them all smiling from ear to ear!
Teachers from St Joseph's Primary School also valued the experience and have already been in contact to arrange another workshop session in the future.
Mrs Cracknell said "I am extremely proud of my African drumming group, what a fantastic group of students! They have each individually worked so hard in preparation for this event and they continue to impress me with their musicianship and creativity! They are committed, hard-working, and are role model students! I look forward to teaching the group every week and I couldn't be prouder of each and every one of them! We will be picking our next piece of music to learn next week and I can't wait to see what they create."