trampoline success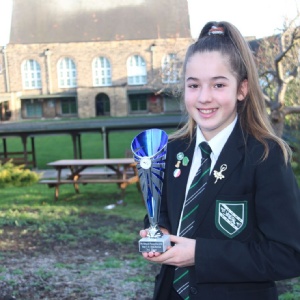 My name is Jennifer and on Sunday 2nd December 2018, I entered a competition for trampolining in Hinkley, Leicester. Before the competition, I trained with Bassetlaw Trampoline Club.
My age group (years 7-8) were split into 4 groups as there are 59 of us. I was competing at 11.30am in the last group. Due to the competition being partnered with schools, I wore my school PE shorts and a plain, black leotard to represent the school.
I took my time and began my routine. I had a flashback of the things that had gone wrong in the past and I managed to do it well in my first routine. On my second routine, there was a bit of a mistake that surely dropped my score lower.
When the results came up and the screen showed my age group, I couldn't believe what I was staring at, my name was written in 3rd place!
Not only would I receive a trophy but I would be going into the next round. After all that commotion, I was called out and stood proudly on a podium at third place.
I am very proud and glad to have my parents, family, friends and Netherthorpe supporting me.