The Longitude Explorer Competition 2019/2020​​​​​​​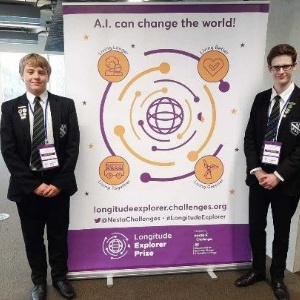 Please enter an introduction for your news story here.
Charlie and Sam in Year 10 have reached the final of The Longitude Explorer Competition with their idea of PROfish. The aim of PROfish is to rid the oceans and other bodies of water of plastic pollution while avoiding damage to plants and animals that inhabit the area.
'I would like to congratulate both Samuel and Charlie on making the National Finals. As a school we are extremely proud of their achievements. What is more impressive is the fact that their idea could have a significant impact on the environment. The fact they have done this with only a small amount of support from the school, shows their determination to getting this project done. Well done! Mr. Williams
To help support the boys with their project there is a People's Choice Award where family, friends, and schools can show their support by clicking on the link below and voting for PROfish. All you need to do is use the link below and click on PROfish as your choice. You can only vote for one idea and the competition closes at 23:59 on FRIDAY 3rd July 2020.
The boys would really appreciate the support and fingers crossed they might win a prize.
Get voting everyone!!