Application Process
Application to Sixth Form - The Process
This year we are running an electronic application process. This will be accessible from this page and is due to go live after our open evening.
Stage 1
You are invited to attend our open evening (November), collect a prospectus tour our facilities and meet the teaching staff, Sixth Form team and school leadership.
We encourage you to talk to all the subject staff you are interested in studying, to get up-to-date information about how subjects are delivered, expectations, curriculum topics and the makeup of the qualifications. You will have the opportunity to ask questions and explore what we have to offer.
Stage 2
Complete our online application form, click the icon below to start the process. Please see the prospectus for the deadline for this year's applications.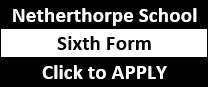 If you experience any issues with the online application process, please email Mrs West for assistance at s.west@netherthorpe.derbyshire.sch.uk
Please note that Friday 22nd November is an Inset day so any emails will be processed week commencing 25th November.
Stage 3
We seek to see all students who would be new to the School in our application meetings. These are detailed in the prospectus. If you currently study at Netherthorpe School, we will discuss this with you in school.
Stage 4
Exams! Focus on revision and study in the build up to your exams.
Stage 5
Post exams we invite you to attend our induction day details can be found in our prospectus. You spend a day with us sampling the subjects you are looking to study and getting further information about the start of Sixth Form.
Stage 6 - Results day
On results day we ask that you attend Netherthorpe School Canteen, where we discuss the grades you have achieved. By now you will know what is required to enter the Sixth Form, the vast majority of our applicants get the results and make it into the Sixth Form. If results are not wanted to achieve, we always advise coming in to discuss things with us. We do have other providers with us in the canteen who are also available to help.
Stage 7
Start Netherthorpe Sixth Form!