World Mental Health Day 10th Oct - Hello Yellow for staff and students.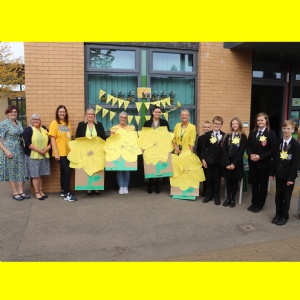 Tuesday 10th October 2023 was World Mental Health Day. This year's theme was "Mental Health is a Universal Right" and highlights how 1 in 4 people experience poor mental health each year. Mental Health can affect anyone, at any time and transcends factors such as age, race, gender, and sexuality. The more we learn about mental health the more we will reduce its stigma and help to foster a positive mental health environment in our daily lives as well as our workplace.
The staff well-being group have worn yellow again this year in support of this very important cause. They were joined by other staff to raise the profile of Mental Health across the school
'Hello Yellow': Form groups were given sunflower petals to write a positive statement or words on and students took participated in activities taking place at lunchtime in Cavendish court organised by the Peer Ambassadors.