Paris Trip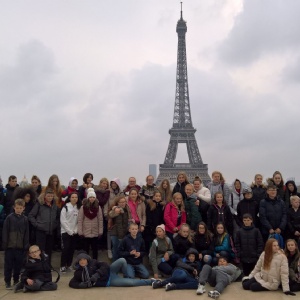 On the 27th of October we set of to Paris in France! We stayed there for 3 days and 2 nights. The trip was very interesting and we loved it!
On the first day we went to the Eiffel tower and did some shopping. It was breath-taking to see how tall it was in real life. The queue was enormous but we finally made it to the front. We all walked up to first floor together which had a glass floor! However, some people were too scared to go up to the next floor so they stayed put. There was more than 600 steps to the second floor. When we eventually got in the lift to the final floor everybody was a bit nervous. Looking out at the picturesque view we finally realised just how high up we were- 300 meters.
"The Paris trip was amazing. Going up the Eiffel Tower was the best experience in my life."
The hotel that we stayed in that night was quite nice and the rooms were very spacious! The beds were also very comfortable. The meals were very different to English meals, therefore many of us did not enjoy them! But the accommodation made up for the food.
On the second day we went around Paris to different tourist attractions using he batto bus and walking. We went to Notre Dame, shopping, Arc de Triomph and another war memorial. It was very fun but quite tiring.
"My advice to others would be to go as if you didn't you would regret it. Everyone has fun on the trip."
On the third day of our trip, we visited the Louvre Art Museum where we saw the stupendous art of Leonardo De Vinci and many other wonderful pieces of art designed by exquisite artists. To reach the museum we travelled on the Paris metro where we had to catch 3 trains. All the carriages were brimming with people and we had to fight our way through the crowds of people. Once at the museum we had to wait in queue until we finally reached the door. As we walked further and further in we began to see the fantastic art and sculptures. The sculptures were draped from ornate ceilings, the centre was filled by an almighty, regal, gold sculpture that's light was projected around the geometric shaped glass frame. The hallways were lined with multiple artworks from various themes and places. Parts of the museum were lifted by the late October sunlight. We followed the corridors until we finally reached a glimpse of The Mona Lisa. This was the most popular part of the museum as you had to jostle your way through the cameras and phones everywhere.
Overall the Paris trip was an eye-opening experience of all the different and unique places of the world! Everybody thoroughly enjoyed it and we all wish we could go back soon.
Written by Caitlin, Kitty and Hannah Year 8