RHS Flower Show Chatsworth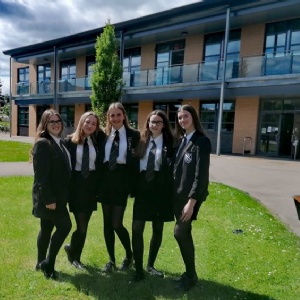 Lily Haywood, Lucy Hewlett-Dawes, Lauren Rodgers, Megan Ives and Emily Leader all in Year 9 were given the task at the start of March by the RHS Chatsworth Flower Show to design and make a display that will attract visitors to the education area 'Discover and Grow'. The theme for these display boards are 'The Five Senses' and Netherthorpe School was asked to create a display based on 'Touch'. The display needs to be very eye catching, visual from a distance and incorporate plants, recycled and upcycled materials. The girls have worked extremely hard on this project, regularly asking questions and making sure we stick to the brief. The design is bold and definitely stands out.
On Tuesday 4th June Miss Beattie, Mr Jackson Miss Martin will assemble the display on the grounds at Chatsworth House, this will be the first time the display will be fully assembled. The girls will attend the show on Wednesday 5th June and finally see what all their hard work looks like.
Miss Beattie has said 'I am extremely proud of all the research and hard work the girls have put into this project. They have worked as a team and produced a fantastic display that they should be very proud of. They have worked independently and upcycled a range of different products. I can't wait to see what the RHS say about the creative display the girls have created.'