Christmas Charity Concert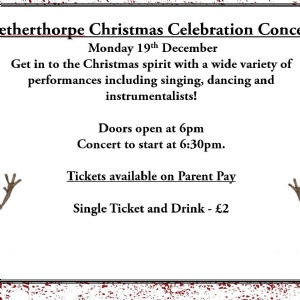 The concert will feature many talented acts and all money raised will be donated to charity. In addition to the main performance we will have some fun activities and delicious refreshments available during the interval.
Doors will open at 6:00pm and the evening show will start at 6:30pm. We expect the event to finish at approximately 8:30pm.
Tickets are now on sale and can be purchased on Parent Pay. We anticipate the Christmas Concert being extremely popular and therefore encourage you to purchase your ticket as soon as possible.
Tickets are priced:
Single Ticket and Drink - £2
Once purchased on Parent Pay – tickets can be collected from Main Reception.