Careers (Part of Personal Development)
Netherthorpe School is an inclusive community school that ensures all students are able to Learn, Enjoy and Succeed. We ensure we develop confident individuals who are able to live safe, healthy and fulfilling lives, whilst also being a responsible and active citizen who will make a positive contribution to society. Throughout their time at Netherthorpe we hope to provide learners with the skills needed to progress successfully into further education, employment, and adult life. Netherthorpe's School Careers Programme is committed to developing a whole school approach to providing all students with up-to-date, impartial, independent and varied careers, education, information, advice and guidance (CEIAG) as defined by the CDI framework and the 8 Gatsby Benchmarks.
Students will take part in a series of Careers and Guidance lessons each year throughout Y7-Y13, during Personal Development lessons. Each lesson is specifically designed to support students of that age group, when exploring the topic of careers/destinations. The school also runs a variety of careers related trips and events every year, that are specifically targeted to certain students or year groups. We also host a whole school careers fair, hold careers cafes and have employers/educational providers deliver assemblies or workshops to our students. All of these opportunities ensure students are able to make positive informed decisions about their destinations and future careers.
Netherthorpe School is part of the North Derbyshire Careers Hub which is a community of practice with other secondary schools and colleges in the area. This is part of a programme set out by the government, with support of the Careers & Enterprise Company, that is operated locally by the D2N2 LEP. The school follows best practice nationally and audits its careers provision and guidance on a termly basis. The school gains from sharing best practice amongst the Careers Hub member schools and colleges. We are also very lucky to have incredible support from our D2N2 Enterprise Coordinator and volunteer Enterprise Adviser (Rebekah Linacre) from MSE Hiller.
Local Enterprise Partnership for Nottinghamshire & Derbyshire
Work Experience
We are always trying to expand our database of local businesses who would be willing to offer our students the opportunity of a work experience placement either physically or virtually. If you have any work experience opportunities available at your organisation for our students and would like to discuss them with us, please contact:
Mrs Rachel Cracknell (Deputy Head of Personal Development)
Contact details: RWells@netherthorpe.derbyshire.sch.uk Tel 01246 472220
Gatsby Benchmarks
At Netherthorpe we believe that every young person needs high-quality career guidance to make informed decisions about their future. In order to do that, the staff at Nethethorpe are extremely passionate about making sure students achieve all 8 Gatsby Benchmarks over the course of their time at school. These are 8 benchmarks which define excellent career guidance.
Good Career Guidance | Education | Gatsby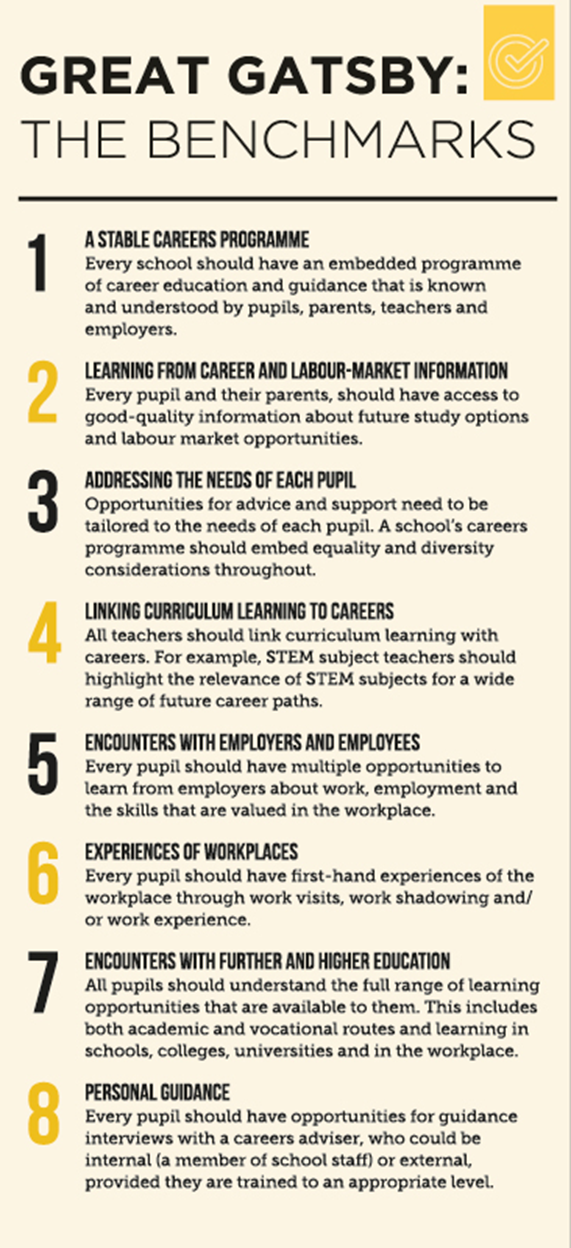 How the School is working towards and achieving each benchmark
National Careers Week 2022
Hi Everyone,
This week is National Careers Week! It is a week to celebrate careers, learn more about the world of work, your options and where they can take you!
Please check out some of the amazing resources below that have been created just for you and that are happening this week – all to celebrate this incredible event.
National Careers Week Virtual Fair + Other Resources
Tens of thousands of students across the country took part in Careers Week last year, having an opportunity to access the Virtual Careers Fair and take part in other careers activities.
The careers fair had close to 100 exhibitors last year for you to look at and investigate. You don't just have to be in school to access the Virtual Careers Fair though.
After the 7th March, you can visit:
UCAS - Join us for National Careers Week 7 - 11 March

With a line-up of top career experts, coaches and more, we're exploring the endless possibilities available for students. With a week of interactive sessions from WorldSkills, The Career Development Institute, and employment experts, Reed, there's something for everyone.

Get your tickets for 7 March UCAS/Discovery online event and join us live in the Hub at 15:00 (UK time) for the rest of the week. Find out more.
National Careers Week 2022 | Exhibition | UCAS
Department For Work and Pensions Virtual Careers Fair
The East London Support for Schools Team will be holding another Virtual Careers Fair Week for all schools.
We have come back BIGGER and BETTER this year, as all the companies involved have either Work Experience opportunities or Apprenticeships for your students to apply for.
Please see the link below:
https://www.eventbrite.co.uk/e/dwp-virtual-careers-fair-tickets-274123509797
D2N2 Start Website
Virtual Careers Fairs - Explore the Virtual Careers Fairs available in your area to help support students with their best next step. Meet local employers, learn about courses and virtually visit post 16 providers including colleges and universities.
Start - Virtual Career Fairs in Derby, Derbyshire, Nottingham and Nottinghamshire (startprofile.com)
D2N2 Apprenticeships - These engaging case studies will help students find out about apprenticeship opportunities with local employers in sectors including healthcare, engineering, digital technology and IT. They can be used to inspire younger students as well as help those making their post-16 and 18 choices.
D2N2 Apprenticeships (startprofile.com)
Industry Insights – Find out about careers available in the local area, key employers and the skills and qualifications they will need.
Start - Key Industries in Derby, Derbyshire, Nottingham & Nottinghamshire (startprofile.com)
Green Careers - How much do you know about 'green careers'? Do you know that they're already developing many of the skills required to be successful in green jobs?
D2N2 - What are green skills and what are green jobs? (startprofile.com)
HEPP Fest
National Careers Week, 7th - 11th March 2022.
Building on the success of the event last year, join us for interactive sessions delivered by a range of speakers (employers, recent graduates, university academics and HeppSY staff), aiming to broaden student's knowledge of job sectors and progression options beyond their current qualification(s). Each day has a different sector theme - Digital (IT), Engineering, Food, The Arts and Sport and include a 10am employer session (including a Q&A), 11am careers in the curriculum and 1:30pm HE taster or graduate story.
All sessions are free, delivered virtually, suitable for Y9 - Y13 students and bookable via Eventbrite. Our programme is attached and online here- we hope to see you there!
Unifrog – Virtual Careers Talks
As part of National Careers Week 2022, we're running a virtual Next Steps Fair for students on Tuesday 8 March, 5-8pm.
The Fair will give students a unique opportunity to compare all the different post-school pathways side-by-side. We're thrilled to announce that Joe Wicks MBE will be kicking things off with a unique insight into how he got to where he is today and the importance of following your passion when it comes to students finding their dream career!
Students will then have the chance to hear from 50+ top UK universities including University of Cambridge, University of Glasgow, and University of Manchester as well as leading employers and apprenticeship providers, including Dyson, Morrisons, British Airways, and PWC.
All you will need to do is login to Unifrog after clicking the link. If you have never singed up to Unifrog before or can't remember your login details you should be able to access the event by clicking the link below:
https://www.airmeet.com/e/eaa0edc0-722e-11ec-8859-6b3f77791c70
If you have any problems accessing the event – please contact Mr N Green
Hope – Short Film
A short film about Hope From NCW - National Careers Week 2020: A Film About HOPE HD 1080p NCW 2020 on Vimeo
Careers Buzz Quiz
Start thinking about a career and check out your personality type:
World Skills UK Careers Service Website
We inspire young people, whatever their background, to choose high-quality apprenticeships and technical education as prestigious career routes. Check out this amazing student focused advice site, with over 40 industries to choose from.